CoinClaim.io has just completed the successful launch of their new automated, 100% crypto bounty system and has opened the platform for companies and public users.
CoinClaim is a fully automated SaaS marketing tool that allows companies, to build marketing campaigns and pay users their own company tokens to promote their brand or products.
Companies create automated marketing campaigns in the company Dashboard. They decide which tasks need to be completed and how much to award users. The system calculates the amount of company tokens required for the campaign, and automatically adds them to the user's wallet after completion of campaign.
"We have transformed what used to be a manual bounty process in the crypto space and completely automated it," said founder Jeff Ownby. "Now companies can easily run their own bounties without paying up to $5,000 per month for a manual program run by a third party."
CoinClaim attracts a large user-base of internet users looking to earn free tokens for promoting brands. CoinClaim is free for users.
Those interested in how CoinClaim works can view this video: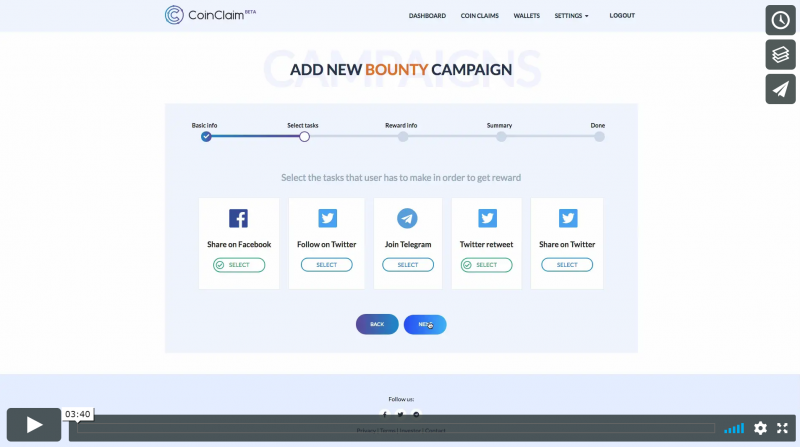 "CoinClaim did not do an ICO, but we have a token," explained Ownby. "CLM is used in the system as an incentive for users to continue interacting with CoinClaim and company clients." Users can earn CLM by completing tasks such as logging in daily or weekly, completing company Coin Claims, birthdays, holidays and more.
CLM currently trades on the 9coin.com exchange here: https://www.9coin.com/chart/show?curr=91&currtrad=37&market=CLM/ETH
For more information about CoinClaim, email info@coinclaim.io or visit their Telegram group here: https://t.me/coinclm